The NTA has made the CUET UG 2023 application form available since February 09th for DU Admission 2023 & other Central Universities Admission, and the last date for submission of CUET Exam Forms is March 12th.
NTA has released a list of 34 CUET-UG 2023 help centers across India, each with a dedicated technical person in charge to assist candidates in completing the online application form. Candidates may visit their local help center with the necessary documents to complete the CUET Exam form.
DU Exam 2023 form will be submitted online on CUET UG Website. For this CUET Registration will be done online on it's official website. All important links are given below.
CUET Exam Fee will also be submitted online through available modes of payment: Credit/Debit Card/Net-Banking/UPI till 30th March, 2023 11:50PM.
Application correction window is given from 1st April to 3rd April, 2023.
Candidates have to select any two cities of their choice while applying.
Syllabus CUET Download: CUET Syllabus Download Link
Table to Content
#1. Important Dates and Fee Details for DU Admission 2023 – CUET Exam
Online Submission of CUET Exam Application Form
From 09Th Feb, 2023 to 30th March, 2023
Last Date of CUET Application & CUET Exam Fee Payment
30th March, 2023
CUET Exam Application Corrections
1st April to 3rd April, 2023
Announcement of CUET Exam City for Examination
30 April, 2023
CUET Admit Card Download Date
2nd Week of May, 2023
DU Exam date 2023 / CUET Exam Date 2023
21 May 2023 to 31 May 2023
(Reserve dates: 01 to 07 June 2023)
DU Admission 2023 Dates

#2. CUET Exam Eligibility:
There is no age restriction for candidates who wish to take the CUET (UG) – 2023 exam. Regardless of their age, candidates who have completed or are currently enrolled in class 12/equivalent courses in 2023 are eligible to take the exam.
However, candidates must meet the age requirements, if any, of the University/Institution/Organization in which they intend to seek admission.
#3. CUET Exam Mode
Computer Based Test (CBT)" mode
#4. CUET Exam Process & Details for DU Admission 2023
Objective type Multiple Choice Questions (MCQs).
There are three shifts in a day. A candidate can choose up to 10 Subjects for giving the Exam.
List of Languages, Domain Specific Subjects and General Test covered in CUET (UG) – 2023 is given in CUET Exam Document (Link given below in important links section).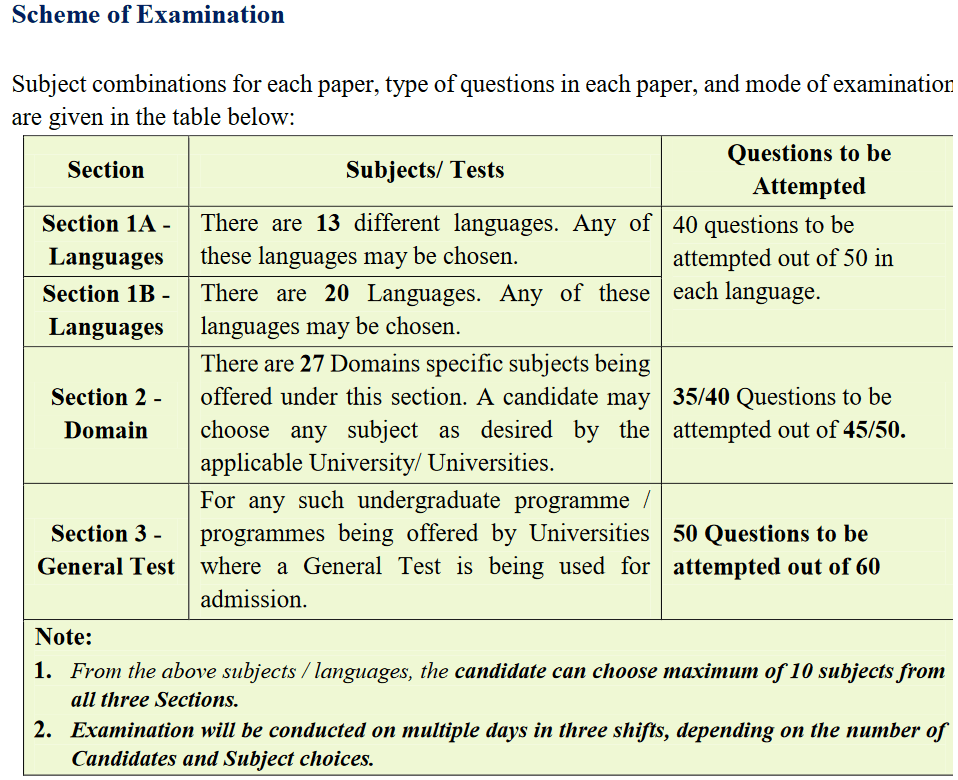 Note:
Examination will be conducted on multiple days in three shifts, depending on the number of Candidates and Subject choices.
#5. CUET Exam Syllabus for DU Admission 2023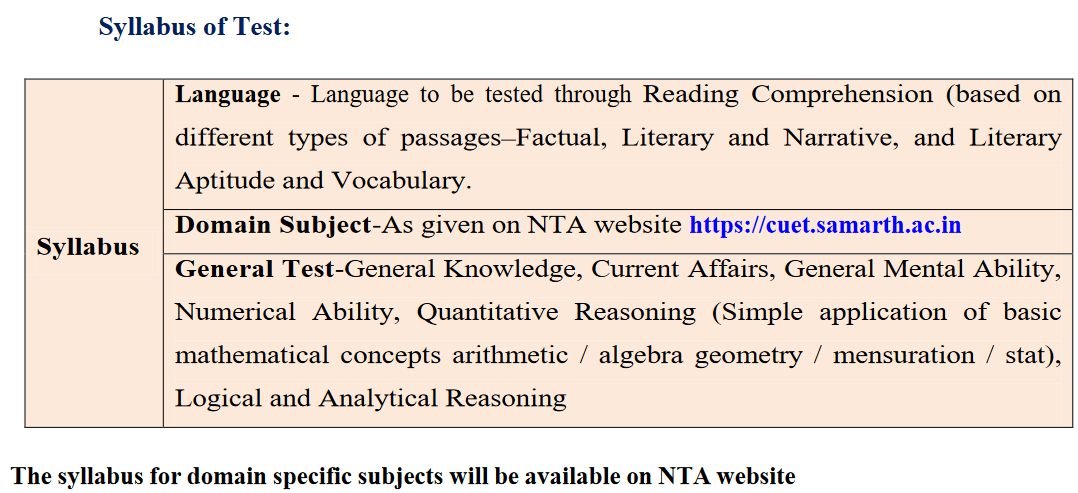 #6. CUET Exam Admit Card | CUET Admit Card
Once the eligibility criteria are met and the prescribed application fee is received by NTA, candidates will be provisionally issued an e-Admit Card through the NTA / CUET website.
CUET Admit Card must be downloaded by the candidate from the NTA website. The e-Admit Card will contain information on the examination Centre, date, and shift/timing at which the candidate must appear.
Candidates must appear for the exam only on the date, shift, and time specified in their Admit Card. No candidate will be permitted to take the exam at a different Centre, date, shift, or time other than those specified in their Admit Card.
Update on CUET Exam Date 2023, CUET Exam Centers & CUET Admit Card Date 2023:
Read below notification snap shot from National Testing Agency, to know more on CUET Exam Date, CUET Admit Card Dates and CUET Exam Centers: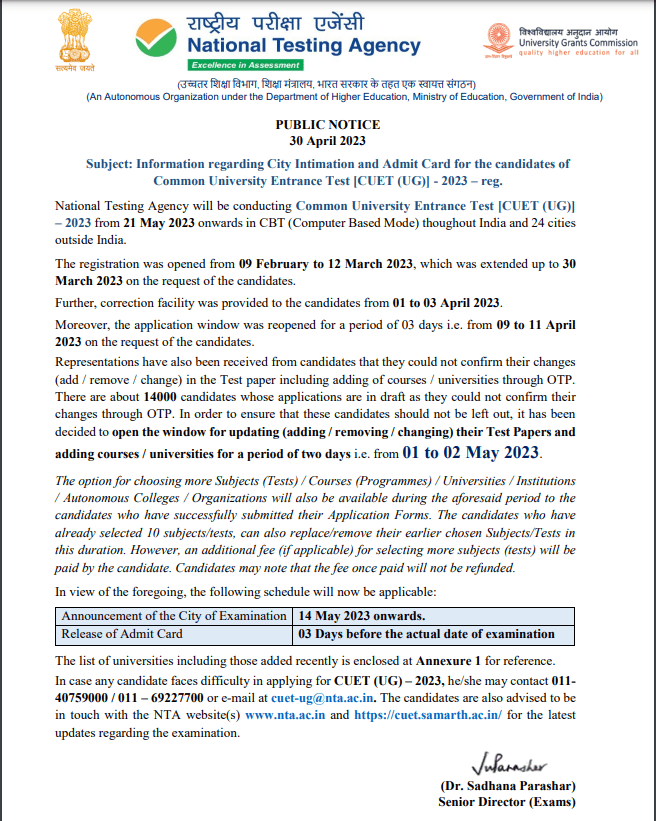 #7. Important links
CUET Exam 2023 – important links
For More Admission Updates Click Here
FAQ
Q. What is Last Date to Apply CUET 2023?
A. Last Date to Apply CUET Exam 2023 is 30th March, 2023.
Q. When is the CUET 2023 exam scheduled?
A. CUET Exam 2023 is scheduled from dates 21 May 2023 to 31 May 2023 and reserve dates are: 01 to 07 June 2023.
Q. In which courses can I get admission through CUET 2023?
A. Through CUET Exam we can get admission in Under Graduate courses in Central/State/Private/Deemed Universities of India.
Q. How CUET exam conducted?
A. It's computer based objective type MCQ based exam.
Q. When will CUET 2023 admit card be released?
A. Admit cards will be released in 2nd week of May, 2023.