eShram Card: The Pradhan Mantri Shram Yogi Maandhan Yojana / e Shram Card is a government initiative designed to provide social security and old-age protection to workers in the unorganized sector.
The Pradhan Mantri Shram Yogi Maandhan Yojana (PM SYM) is a pension scheme specifically targeted at unorganized workers. It is a voluntary and contributory scheme that allows workers between the ages of 18 and 40, with a monthly income of Rs.15000 or less, to participate.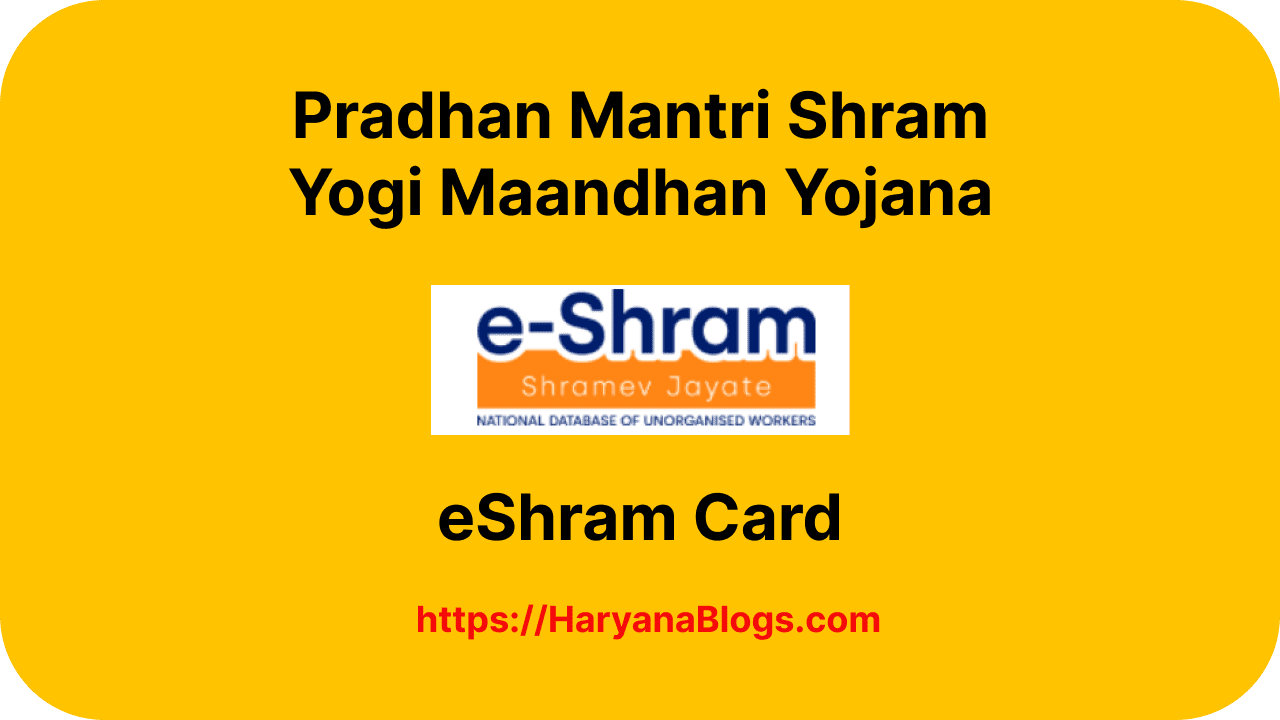 What is Pradhan Mantri Shram Yogi Maandhan Pension Yojana (eShram Card)?
The scheme Pradhan Mantri Shram Yogi Maandhan Yojana is a tribute to the hardworking individuals in the Unorganized Sectors who contribute approximately 50 percent of the nation's Gross Domestic Product (GDP).
The PM SYM is an optional(voluntary) and participatory pension scheme where the recipient is entitled to receive a guaranteed minimum pension of Rs 3000 per month upon reaching the age of 60.
Applicants within the age range of 18 to 40 years are required to make monthly contributions(Submit a monthly amount) ranging from Rs. 55 to Rs. 200 until they reach the age of 60 Years. Once they turn 60 Years old, they can claim their pension amount.
The pension amount is a fixed monthly sum that is deposited into the pension account specified by the individual during the registration process for the eShram Card(PMSYM Pension Yojana).
Upon reaching the maturity of the scheme, individuals will be eligible to receive a monthly pension of Rs. 3000. This pension amount serves as a financial support to meet their various needs.
In the event of the beneficiary's demise, the spouse will be eligible to receive 50% of the pension as a family pension.
It's important to note that the family pension is only applicable to the spouse (Wife or Husband).
Pradhan Mantri Shram Yogi Maandhan Yojana (eShram Card): Who are Unorganized Workers?
Unorganized Workers (UW) are mostly engaged as
Home based workers,
Street vendors,
Mid-day meal workers,
Head loaders,
Brick kiln workers,
Cobblers,
Rag pickers,
Domestic workers,
Washer men,
Rickshaw pullers,
Landless laborers,
Own account workers,
Agricultural workers,
Construction workers,
Beedi workers,
Handloom workers,
Leather workers,
Audio- visual workers OR
Workers in similar other occupations.
Pradhan Mantri Shram Yogi Maandhan Yojana (eShram Card): Eligibility Criteria
Beneficiary should be a Unorganized Worker (UW)
Age Limit is between 18 to 40 years
Monthly Income limit is Rs 15000 or below
Who is not Eligible for PM SYM Yojana?
Workers engaged in Organized Sector (member of EPFO/NPS/ESIC)
Income Tax Payer
Pradhan Mantri Shram Yogi Maandhan Yojana: Documents Required
Aadhaar card
Savings Bank Account / Jan Dhan account number with IFSC
Adahar Linked Mobile Number
Age should be between 16 to 59 Years (16-07-1963 to 15-07-2007)
How to apply for Pradhan Mantri Shram Yogi Maandhan Yojana?: eShram Card Registration Steps
Visit e-Shram Website specifically available for this purpose: https://eshram.gov.in/
Click Register on eShram available on Home Page, see below screen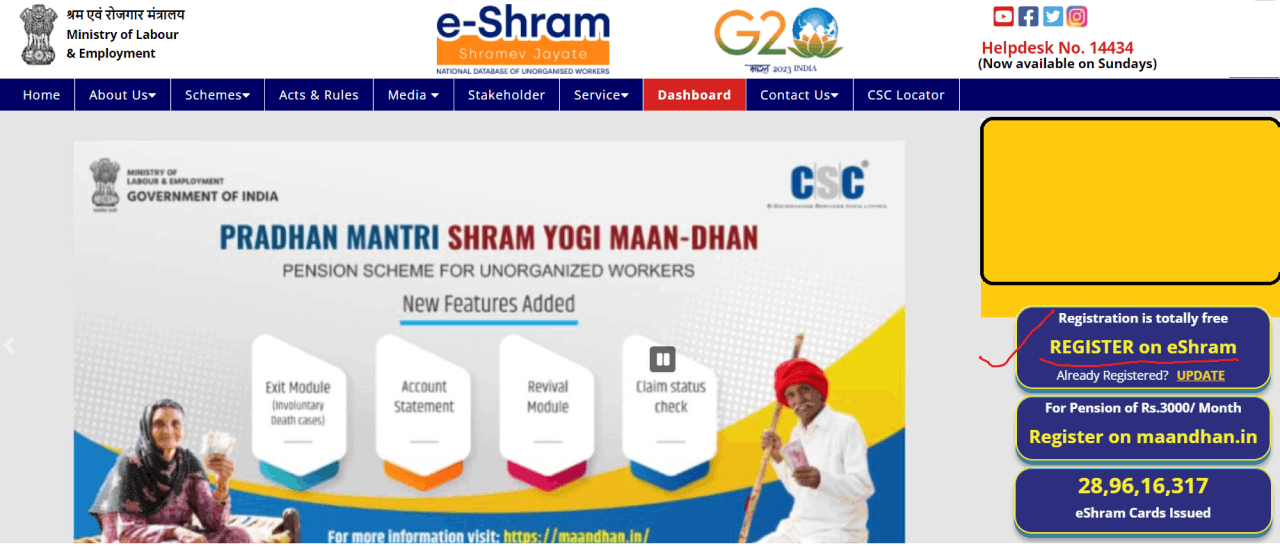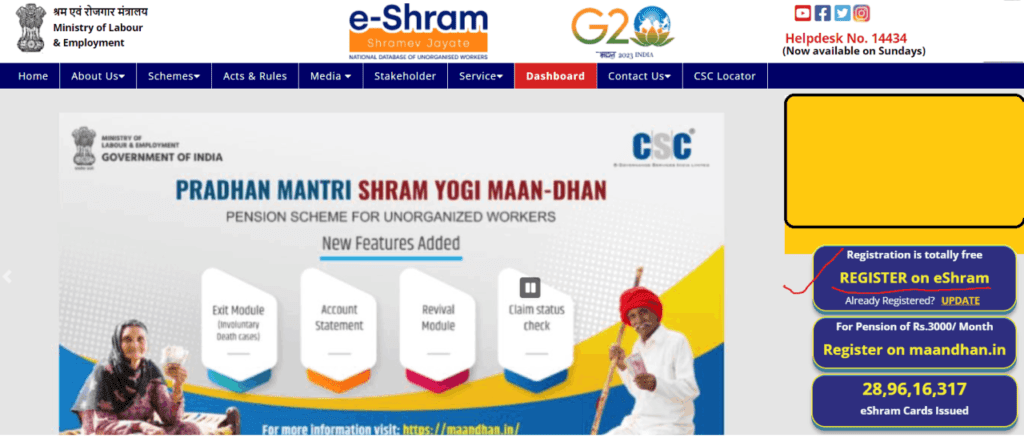 Self registration form will open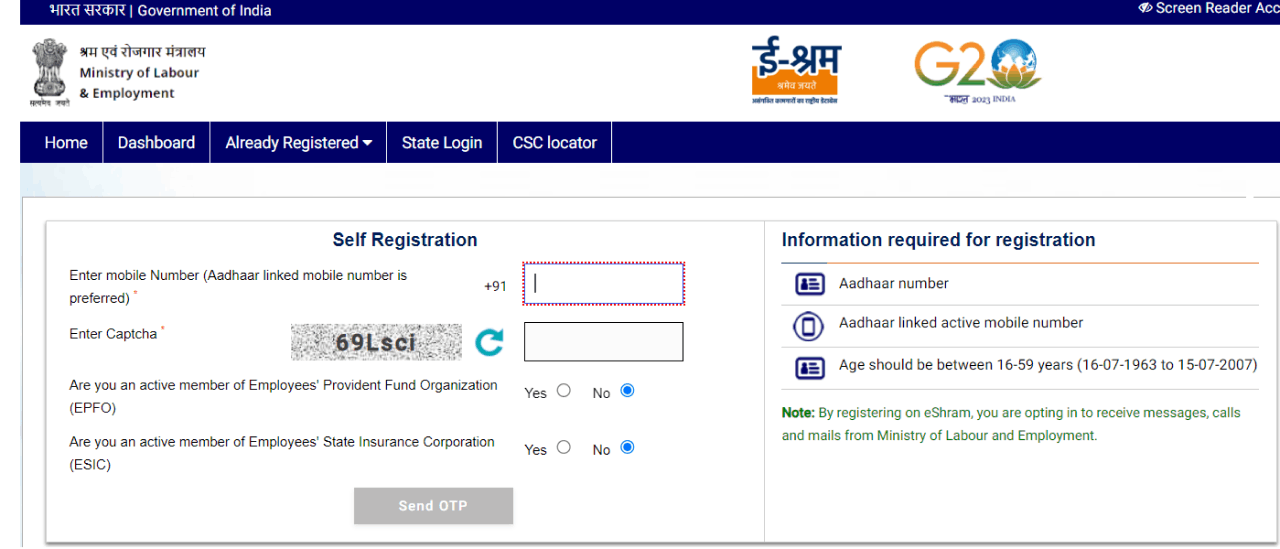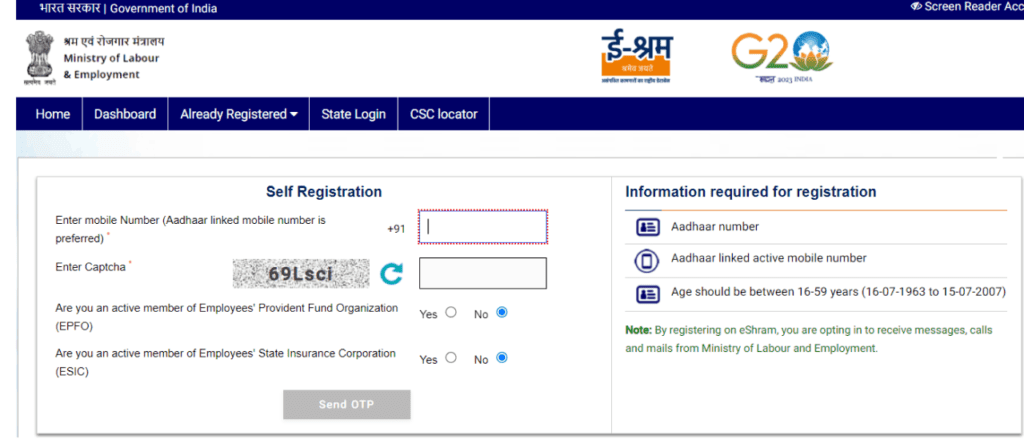 Enter your mobile number & Captcha, tick EPFO & ESIC check Boxes. Click Send OTP
OTP Will be sent on entered mobile number. Enter OTP and Click Validate button.
Fill in the all asked personal details, verify and confirm them if OK
Select name of the skill or business you do and it's type
Fill-in the bank details and select self declaration.
Preview them and click submit
OTP will be asked, enter that and Verify button again.
System will generate the e Shram Card, check that on screen.
Download Card now
eShram Card Download Process / How to Download eShram Card
Visit website: https://eshram.gov.in/
On Home Page, click Already registered option
Select Update / Download UAN Card Option
Enter asked details in form
Click Generate OTP, you will get it on mobile number, enter it and validate.
eShram Card will appear on screen
Click Download now.
Pradhan Mantri Shram Yogi Maandhan Yojana: Important Links
FAQ
How do I check my eShram Card Status?
Check it on eShram Card Portal: https://eshram.gov.in.
How to check eSharm card rupees / pension Payment Status?
Verify it on eSharm Card website portal: https://eshram.gov.in/.
What is the age for e Shram Card?
Age limit for eShram Card is between 16-59 years.
How much pension is given under Pradhan Mantri Shram Yogi Maandhan Yojana?
3000 Rs. Per Month after completion of 60 years age.